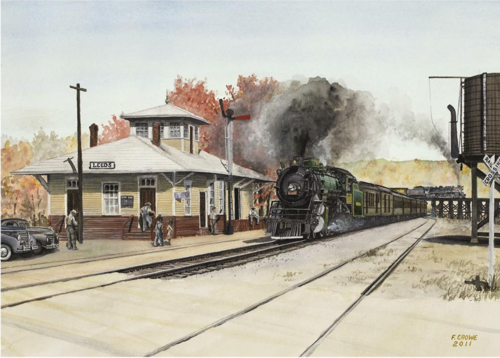 "Leeds Passing"
On a warm autumn day in 1943, the first section of the "Kansas-Florida Special" pulled by green-and-gold Southern Railway Ps-4 "Pacific" locomotive #1386 passes through Leeds, Alabama en route to Birmingham. In the distance, a Central of Georgia K-class "Big Apple" locomotive has started the long ascent up to Oak Mountain tunnel with a manifest freight bound for Columbus, Georgia.

Frank Crowe artwork copyright 2011, used by permission.
Built in 1884 by the Georgia Pacific Railway, the Leeds Historic Depot (Leeds, Alabama) depot was donated by Norfolk Southern Railroad to the City of Leeds and remodeled in 1984 as a community meeting place and offices for the Leeds Chamber of Commerce. Management of the property eventually passed to the Leeds Historical Society, which has granted use of the depot as headquarters for the Mid-South Chapter of the Railway & Locomotive Historical Society (R&LHS).
The Mid-South Chapter is working to restore many of the operating features of the original depot, including installation of a working telegraph and telephone system in the agent-operatorís office. A working track occupancy display for the adjoining Norfolk Southern trackage can be viewed during meeting hours. An adjoining waiting room houses a permanent exhibit dedicated to noted Birmingham rail photographer Frank E. Ardrey, Jr. The exhibit also features displays of railroad artifacts and photographs from the Birmingham District and Leeds areas.
In addition to the depot project, the Mid-South Chapter is assisting in the restoration of a baywindow Southern Railway caboose as an educational exhibit featuring the life and times of John Henry, the legendary "steel-driviní man," who won his famous duel with the steam drill at nearby Coosa Mountain Tunnel.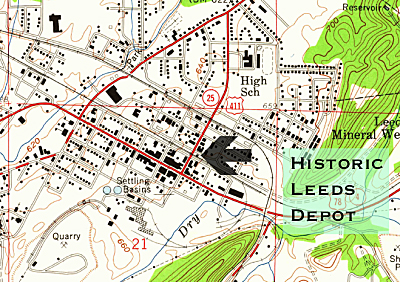 Although the building is no longer active as a depot, the adjacent Norfolk Southern tracks see considerable traffic during a typical day, with container trains, auto-racks and mixed freight prominent. In addition to Norfolk Southern units, it's not unusual to see Union Pacific and Kansas City Southern units heading freights in both directions. Amtrak trains pass once per day in each direction.
Also running east and west one block north of the Depot is the former Central of Georgia's line (now also Norfolk Southern) from Birmingham to Columbus, Georgia. It crosses over the former Southern mainline on a long concrete trestle just east of the Depot; a good view is available from the Depot's platform.
A few miles to the west is Norfolk Southern's immense Norris Yard, with two railfan viewing platforms located at the west end in Irondale, Alabama.

© Copyright 2017 Mid-South Chapter of the Railway & Locomotive Historical Society, Inc