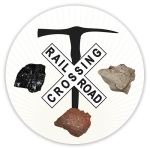 The Mid-South Chapter is proud to be a sponsor of the Historic Birmingham Mineral Railroad Signs Project that is described fully at its website Bham-MRR.com, and is summarized below.
Tax-deductible contributions to the Project can be made via the R&LHS Friends Campaign by using the form below. Donations of any amount are appreciated, and a sign can be "sponsored" for a donation of $100 or more.
---
R&LHS Friends Campaign Gift Form
Historic Birmingham Mineral Railroad Signs Project

Your name ___________________________________ Date_____________________

City, State, ZIP __________________________________________________________

Phone_______________________ Email ______________________________

Mid-South Chapter, Historical Marker Project -- Amount enclosed: $ ______________
Thank you for your support.

Please mail this form and payment to:
John Atherton
16 Coachlight Dr.
Poughkeepsie NY 12603-4241

---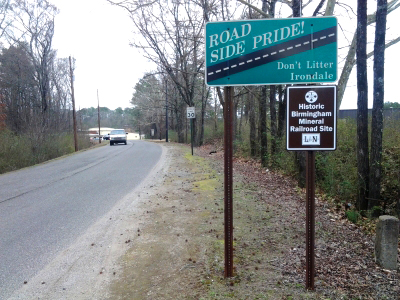 16th Street South at beginning of Georgia Road in Irondale
The Historic Birmingham Mineral Railroad Signs Project is installing signs at various locations around the Birmingham area and in surrounding cities where the Birmingham Mineral Railroad ran during its century-long era (1884-1988) so that people will become more aware of that part of this area's iron industry history. As of June 2015, twenty-one signs had been installed, and more are scheduled for installation.
People drive, walk, and bicycle every day in areas where the historic Birmingham Mineral Railroad (BMRR) ran throughout the Birmingham and surrounding areas without ever being aware that the BMRR was located in those places. Birmingham's iron industry history is an important part of its overall history, and the BMRR was a significant part of that iron industry history. The network of Louisville & Nashville rail lines that constituted the BMRR and its various branches was 156 miles long and transported the raw materials (coal, iron ore, and limestone) from the mines and quarries to the furnaces, coke from the coke ovens to the furnaces, and products from the various facilities to major rail lines that connected to points across the Birmingham area and beyond. "This industrial railroad established the critical linkage between the individual elements of the iron industry, providing transportation between coal mines, ore mines, blast furnaces, rolling mills, and foundries." (H.A.E.R. report No. AL-45, Page 3)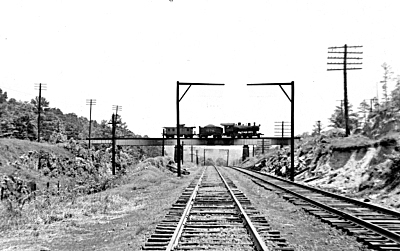 Red Gap Branch crossing over other tracks in Red Gap (Irondale)
The BMRR connected virtually all of the Birmingham area's iron industry's major facilities during the heyday of its operation. The BMRR was an extensive system of rail lines sometimes referred to as the "Birmingham Mineral Belt." As Ethel Armes stated in her book The Story of Coal and Iron in Alabama, the Birmingham Mineral Railroad unlocked the riches of Red Mountain back in the 1880s.  In addition to the BMRR's primary purpose as a Louisville & Nashville Railroad Company industrial railroad, L&N also provided regular passenger service on several of the major BMRR branches.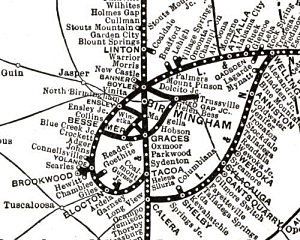 Map Date: 1914
Source: U of AL Cart. Research Lab.
Use of the Birmingham Mineral Railroad continued in various forms and locations throughout the peak of Birmingham's iron ore mining and iron and steel production era. The century-long era covered by the historic BMRR began with the building of the first segment (branch) in 1884 (in what is now Red Mountain Park) and continued with additional branches being added and used until they were retired or abandoned at various times, with at least a portion of one branch continuing to be used to handle light industrial materials until 1984 and one branch continuing to be used to handle the movement of train cars until 1988 (H.A.E.R. report No. AL-11, Page 40). Even today, some segments of the BMRR are still in use as portions of active railroad lines in the Birmingham area.

© Copyright 2017 Mid-South Chapter of the Railway & Locomotive Historical Society, Inc