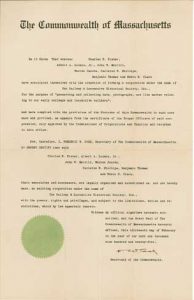 Given the popularity today of interest in railroad history and railroad operations, it's hard to imagine a time when railroad enthusiasts had only a few practitioners–and when even those few lacked a way to share their mutual interests. But back at the beginning that was precisely how things were. And that was why, in the spring of 1921, Charles E. Fisher, Arthur Curran, Warren Jacobs, and Roy W. Carlson formed the Railway & Locomotive Historical Society.
The Society was incorporated in 1925 (addresses in 1925) by
Charles E. Fisher (1889-1972), President, Brookline, Mass. Obituary, Bulletin 126/145
Albert A. Loomis, Jr. (1893-1940), Treasurer, Berea, Ohio.
John W. Merrill (1892-1962), New England Vice President, Boston. Memory of, Bulletin 107/138
Warren Jacobs (1875-1953), Director, Boston. Obituary, Bulletin 89/175
Carleton W. Phillips (1891-1953), Recording Secretary, Taunton, Mass.
Benjamin Thomas (1873-1953), Director, Nashua, New Hampshire. Memory of, Bulletin 89/176
Edwin R. Clark (1868-1943), Director, Chelmsford, Mass., Memory of, Bulletin 61/100
The first American railroad had been chartered about 100 years earlier. There was already much history to document, many pictures of locomotives to collect. The organization that these four men started soon became not only the leader in the documentation of railroad history but, as the society matured, an international pioneer in the study of the history of business and industrial technology.
R&LHS has devoted itself since its founding to promoting railroad research and to furthering the preservation of all aspects of railroad history. Its effort springs from the charge in its original charter: "the increase, diffusion, and perpetuation of knowledge of locomotive history and data and to assist and mutually benefit collections of locomotive and early railroad data."
R&LHS is a nonprofit corporation. Its membership is open to all. No longer must prospective members submit a monograph on some railroad subject as well as "at least two photographs of locomotives." But on the other hand the dues have increased from the original 50 cents per year or $10 for life!
Within a year of its formation R&LHS had recruited 52 members and had begun publishing a semiannual periodical, the Bulletin, which was renamed Railroad History in 1972. By 1925 membership had grown to 190, by 1930 to 254, by 1950 to more than 1,000, with membership today numbering more than 2,284 worldwide. Cornelius W. Hauck prepared a list of milestones for the 75th anniversary.
Thomas T. Taber III has prepared films showing R&LHS Fan Trips, Restoration of DL&W #952, and the First Locomotive Preserved by a Railfan. The films by Taber's father are from 1934 to 1939: .
Among the members are preservationists, museums, curators and archivists; universities, libraries and professors; authors on railroad history, publishers and editors; and–in the majority–enthusiastic nonprofessional followers of railroads and their history. Active and retired working railroaders play a major role in the activities of the Society.
The archival collection began to come together in 1927, when Harvard Business School made two rooms available in its new Baker Library. In 1983, a new archival center was established in Sacramento, California, in connection with the California State Railroad Museum Library.
The first R&LHS chapter was formed in New York City in 1934. Ten local/regional chapters have been established which meet regularly and conduct programs for their members; Steel City Chapter joined R&LHS in 2017. Some chapters publish newsletters. Several chapters have preserved locomotives or other railroad equipment. The extensive collection of the Pacific Coast Chapter, which dated from the 1930s, formed the basis for the California State Railroad Museum.
Read our certificate of incorporation.