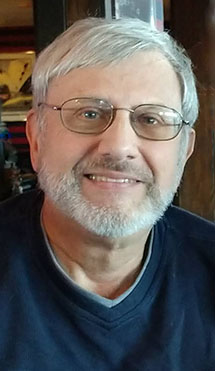 Dan Cupper
Member since 2002
4741 Spring Creek Road
Harrisburg, PA 17111
717-756-3116

Railroad History Editor Dan Cupper is a historian and author, and a retired Norfolk Southern locomotive engineer. Among his 10 books are histories of the Horseshoe Curve, Rockville Bridge, and Pennsylvania Turnpike.
His 184-page book, Crossroads of Commerce: the Pennsylvania Railroad Calendar Art of Grif Teller, won the 1993 book award from the Railway & Locomotive Historical Society. In 2006 he was co-winner, with Tony Reevy, of R&LHS's David P. Morgan Article Award.
From 2002 to 2020, he was deputy editor of Railroad History, overseeing copy-editing and book reviews. In 2020, he was named editor following the resignation for health reasons of Peter A. Hansen. Dan also edits the society's Quarterly Newsletter.
Born in Lewistown, Pa., and raised there and later near Pittsburgh, he is the grandson and great-grandson of PRR railroaders, and his father once worked for a subsidiary of the Baldwin Locomotive Works. When he was a small boy, his parents often took him to the passenger station in Lewistown to watch the parade of PRR trains, many of them still steam-powered at the time.
A graduate of Penn State University with a B.A. in journalism, he worked for the Pittsburgh & Lake Erie Railroad as a freight-station clerk before pursuing his chosen field. He has worked as a reporter for daily newspapers, and later as an editor and press spokesman for a state high-speed-rail feasibility study. In 1988, he became a freelance writer, editor, and historical consultant. He has been quoted on railroad history in the Philadelphia Inquirer, Wall Street Journal, and New York Times.
From 1984 to 1987, he served as chairman of a $50,000 project to rescue, restore, preserve, and display the first electric locomotive to pull a revenue passenger train into Harrisburg, Pa. The 237-ton GG1 locomotive, No. 4859, drew that assignment on January 15, 1938, over PRR's then-newly-electrified Philadelphia-Harrisburg line. The engine was placed on the National Register of Historic Places, and it is now displayed in Amtrak's former-PRR 1887 Harrisburg passenger station.
Dan has written more than 50 articles for Trains magazine, including three cover stories. Also, he has contributed to such magazines as American Heritage, American Heritage of Invention & Technology, Classic Trains, Locomotive & Railway Preservation, Mass Transit, Passenger Train Journal, Pennsylvania Heritage, Railroad & Railfan, and Railway Age. In addition, he has worked as an exhibit-design consultant for museums, including the Franklin Institute in Philadelphia, the Railroad Museum of Pennsylvania in Strasburg, Pa., the Horseshoe Curve Visitor Center, and the Altoona (Pa.) Railroaders Memorial Museum.
In 2006, he left freelance writing and consulting to become a freight-train conductor for Norfolk Southern Railway. He worked in that role for eight years and was promoted to engineer in 2014. Four years later, he retired, in August 2018.
Besides R&LHS, he is a member of the Pennsylvania Railroad Technical & Historical Society, the National Railway Historical Society (and its Harrisburg Chapter), the Center for Railroad Photography & Art, and Friends of the East Broad Top Railroad.
He and his wife Shirley live in suburban Harrisburg. They are the parents of two adult married sons and have one grandson.