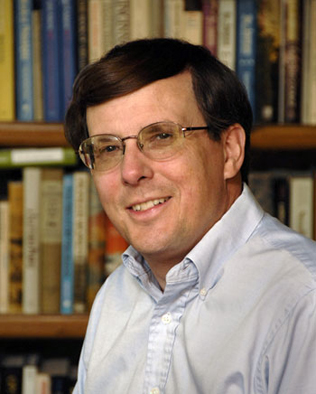 Peter A. Hansen, 62, Railroad History editor and renowned railroad writer and historian, died Friday, May 15 at his home in Winter Park, Fla., with his wife Bonnie at his side. He had been battling brain cancer for 2 -1/2 months.
His achievements were spread over many fields: writing, researching, public speaking, editing, teaching, acting, scriptwriting, exhibit-design consulting, tour leading, and serving as an on-camera expert.
"Pete was a gifted writer who did not shy away from troubling subjects," said Bob Holzweiss, president of the Railway & Locomotive Historical Society. "Careful documentation, thoughtful analysis, and crisp writing were hallmarks of his tenure as editor of Railroad History. He was also comfortable on television where he appeared in documentaries on a variety of railroad subjects. Privately, he was an engaging speaker who enjoyed the give-and-take of spirited debate. But most of all, Pete was a passionate advocate for the cause of railroad history and preservation and a good friend."
Among his clients were the Smithsonian Institution, where he worked with the late Bill Withuhn, curator of transportation; Amtrak, for which he moderated a 40th-anniversary video; the Kansas City Southern Railroad, where he assisted with the company's exhibits and archives; the California State Railroad Museum; the Nevada State Railroad Museum; Kansas City Union Station; and filmmaker Rich Luckin, who has produced many railroad-theme video programs for public broadcasting stations and Kalmbach Publishing.
Michael R. Haverty, retired chairman, president and CEO of Kansas City Southern, and a fourth-generation railroader, often worked with Hansen on railroad history projects and became a close and loyal friend. "He did work for us at KCS and at (Kansas City) Union Station when I was chairman of the board at Union Station," he said. What impressed him most was "Pete's ability to remember railroad history – he would start talking and or he would get up on stage or be in an interview, and it was amazing how much history he had in his mind."
Hansen wrote 48 pieces for Kalmbach's Trains or Classic Trains magazines, 10 of them in-depth cover stories. He also has appeared on many broadcast programs, including CBS's "Sunday Morning."
He collaborated on several books, including a coffee-table history of the KCS's Southern Belle office-car train, and Withuhn's magnum opus, American Steam Locomotives: Design and Development 1880-1960, the latter published by Indiana University Press in 2019. A book on the railroads of Missouri, authored by Hansen and professors Don Hofsommer and Carlos Schwantes, is also forthcoming from IU Press.
Hansen was president of the Kansas City Chapter of the National Railway Historical Society from 2002 to 2007, and later served as a board member of the Lexington Group in Transportation History. He was editor of the Railway & Locomotive Historical Society's Railroad History for 13 years, from 2007 to 2020.
He also served as a Smithsonian Journeys tourguide, taking bus groups to visit Colorado rail sites such as the Cumbres & Toltec Scenic Railroad and the Durango & Silverton Railroad. One of the projects of which he was proudest was exhibit design consulting, with Withuhn, on a Southern Railway Jim Crow-era steel day coach that was installed in the National Museum of African American History & Culture in Washington, D.C.
Born as the son of a Mobil Oil executive, Hansen spent his early childhood in Haddonfield, N.J., and often was at the station to see his father returning by Pennsylvania-Reading Seashore Lines train from Philadelphia. Later, the family moved to California briefly, and eventually to Kansas City, Mo. Both venues offered him a broad range of railroad experiences, and he became known for a knowledge of railroading that was both deep and wide.
He was a 1979 graduate of Eastern University in St. David's, Pa., with a bachelor's degree in history. He and his wife Bonnie met while at college together. They later collaborated to present many living-history demonstrations and productions focusing on railroad lore, such as the Harvey Girls, KCS President Arthur Stilwell, and President Teddy Roosevelt.
Besides his wife of 38 years, he is survived by a brother, Thomas Hansen of Sparta, N.J., and a sister, Karen Pearson of Overland Park, Kansas. Memorials are pending; cards can be sent to Box 1282, Winter Park, FL 32970-1282. A more complete account will appear in the Memorials section of the next issue of Railroad History, fall-winter 2020.